Sonepar in Singapore and Siemens SI EP (Smart Infrastructure Electrical Product Business Unit) announced on 4 October 2023 their new distribution partnership at a co-hosted event held at the Conrad Centennial Hotel, Singapore.
Titled "Forging Futures Together: Unveiling our new distribution partnership", the momentous event brought together employees from both companies, as well as customers and partners, to celebrate a significant milestone.
The event was attended by Dr. Lai, CEO, Siemens Singapore and Lead Country for SI ASEAN, and Mr. Andrew Bennett, Country Managing Director for Sonepar in Singapore, where they both addressed the assembled audience and expressed their respective visions for the future to deliver positive outcomes and contributing to the achievement of one another's goals.
Part of our business is building partnerships with market-leading brands, and we're honoured and privileged to do that with Siemens SI EP. Together with Siemens, we want to be able to bring innovation, investment, and commitment, which is about making our customers more successful, providing new options and the ability to effectively progress the market. 

Thanks again to Dr. Lai and the Siemens team for the confidence and faith, and we look forward to building a strong partnership.

- Mr. Andrew Bennett

The event was followed by an enchanting light painting performance by Mr. Lawrence Koh, depicting the coming together of the partnership journey. An official partnership launch was then witnessed on stage, graced by key representatives from both Siemens and Sonepar.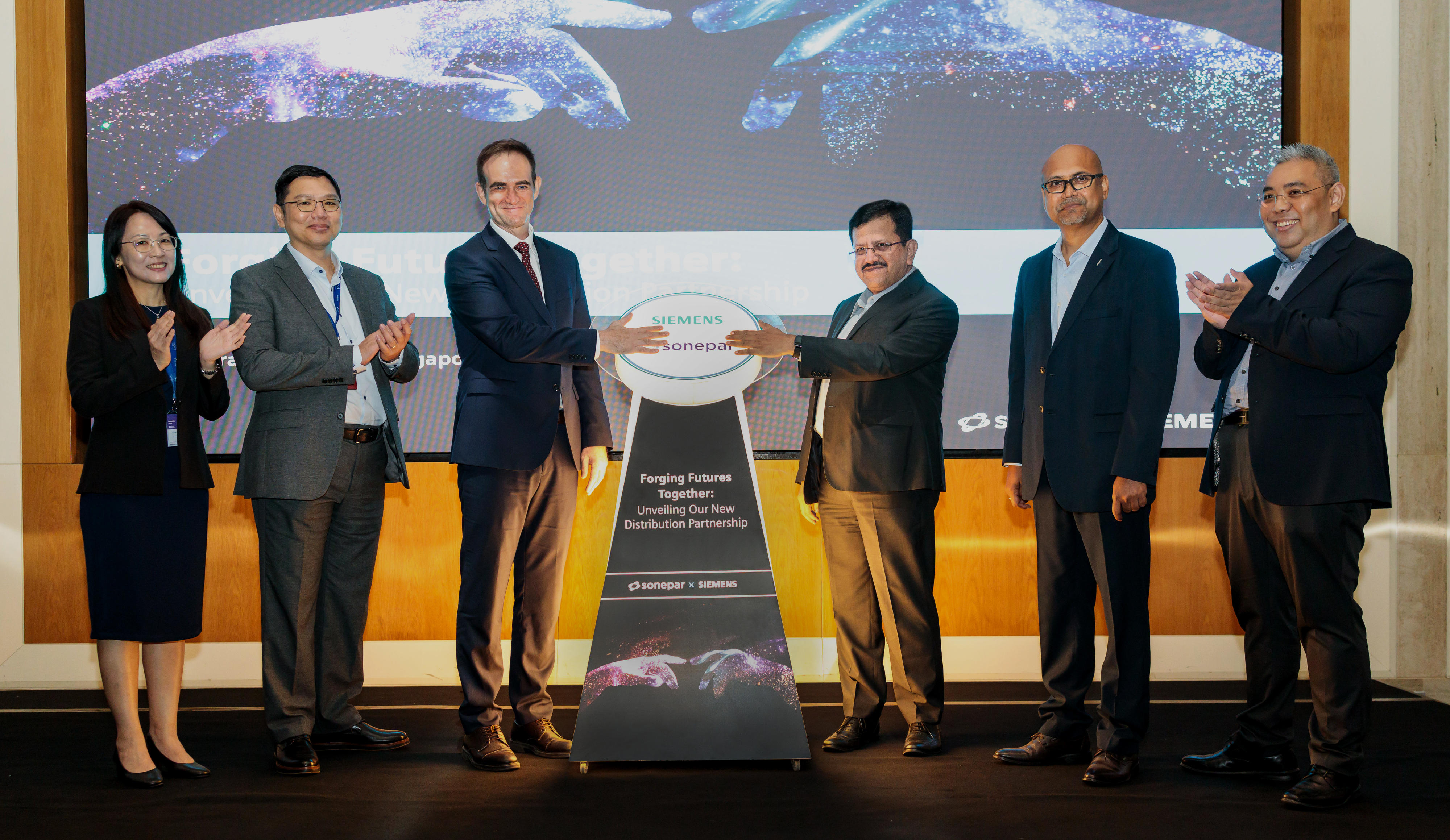 PHOTO (Left to right): [Sonepar] Ms. Samantha Wong, Mr. Loo Hunleng, Andrew Bennett, [Siemens] Mr. Shrotri Chandrashekhar, Mr. Saikat Majumdar, Mr. Alvin Chan
The event was met with an encouraging turnout and proved to be a resounding success. Attendees were afforded the opportunity to mingle, enjoy delightful cuisine and beverages, and cultivate meaningful connections.
This strategic alliance between two industry leaders marks a significant milestone in their respective journeys, highlighting their dedication to delivering best-in-class products and expertise to the local market.
Check out the event highlight videos below:
[Sonepar x Siemens] Forging Futures Together: Unveiling our new distribution partnership - YouTube
About Siemens SI EP
At Siemens SI EP, a commitment to delivering cutting-edge solutions in the field of low voltage and control products is the hallmark of their mission. With a rich history of innovation and excellence, their product range is designed to meet the diverse needs of customers, offering high-quality, reliable, and efficient electrical solutions.
From advanced control systems to energy-efficient low-voltage components, the portfolio is engineered to empower businesses, industries, and individuals alike.